Blessings, my name is Tanja Theriault. My life has been filled with pain, fear and loss;however, God has filled my life with much more. At six years old I met my father for the first time. From age six until age fourteen my father beat me and tortured me. The type of torture I speak of is using my fears to terrorize me. I will give two examples. My father used to hang me and my sister upside down until we passed out. The other is that he would torture my animals and make me watch, and these are just two examples of the nightmare in which I lived. My mother did not know because my father threatened to kill me and my dog if I told. My mother found out when my sister ran away. My life in school was a nightmare, I would go to grade school and get tortured then go home and get beaten by my dad, I felt like a prisoner but I held on to my faith that God would rescue me, send someone to help me. High school was much worse I was harassed, teased, sexually harassed, it came to the point students would throw glass at me, push me off the bus, caused me unbeliable humiliation, there were days I just wanted to die, when I was threatened in my school my mom took me out causing me to withdrawl from prom and my graduation. I started my high school all over again in a adult education school at 18 and graduated in 2002 with a GED Diploma. I have dealt with many losses in my life. At age 9 my best friend Kenny was killed in a fire. At age 16 my childhood love was killed. At age 17 my friend Nick was killed by a hit and run. At age 18 my friend Danielle died from heart failure. At age 20 my close friend who was a second mother to me, Gaynor died o tragically. At age 21 my friend Jinnette died from heart failure. Since I have turned twenty five my Nanna died from heart failure and my friend Andrew died from epelepsy. New Years Day of 2006 Mr Simpson died of a heart attack and in November my precious Aunt Tracey died from a massive heart attack, I say their hearts were just too big, two great people in my life. My sister is bi-polar and lives with me and my mom. My brother has two beautiful children Jacob and Zoey! My entire life I have had a close bond with Jesus. I have been singing for Jesus since I was 4 years old and still do today. Music Ministry is a way for me to express my love for the Lord and it is so amazing to see people touch by the gift which the Lord has given to me. In terms of love I did not date much because I can be shy. I have had 4 boyfriends. I broke up with my last one in 2004. We dated in High School. I knew God did not want me with him but I did not listen. Damien started to become mean, started doing drugs and I said I cannot live like this. He told me that he would leave me if I did not have sex with him so I ended it. I do not believe in pre-marital sex. God set up those rules for reasons. I have learned that I will only date Christians, you do not need to be a strong Christian but he must put God first in his life. My prayer is to work with mentally challenged children, marry a Christian man, and have a family. I have a strong heart for people, I love all people and will do what ever I can to make sure that no one feels unloved. I run an outreach for critcally ill children, mentally and physically challenged children. I feel it's so important to bring awareness to those who need you to speak up for them and help them to achieve their goals. In 2006 I raised a baby named Baby Kate because her mother was neglecting her, I had her from 2 months until she was 7 months old. Baby Kate taught me of how much patience and energy I could have. Everyday I miss her but I was forced to give her back to her bilogical mother, Kate taught me that I would make a great mother. I went to Canadian Idol in 2007 and they told me I had an incredible voice but I had not confidence in myself and I feel its because I just loss Baby Kate at that time. Chiropractic care has also changed my life in a huge way. My health problems improved, I take less medocations and have learned so much of the natural healing of the body. My Chiropractor Dr. Brian Nantais is just an awesome guy, his love for God touches me so much, he also contributes to Chiropractors with Compassion, changing lives of children in poverty, his office and family sponsor children as well. At this time I go to Parkwood Gospek Temple ans I love it, I am involved in children and music ministry. I start college in September 2009 to obtain a licence working with troubled children and youth. This is my testimony, I hope you can see that nothing will divide God and I. No storm will wash him away, no lightning will strike me back. God is my heart and that is where my strength comes from. Find God, find a new begining!

Love, Loyal Lamb Tanja Renee (Artz) Theriault

Testimony Updated: November, 2008

Favorites:
Color: earth colors
House Pet: Basset Hound/Yorkshire Terrier (Of course Lambs)
Wild Animal: Orca Whale, Dolphins and Panda Bears
Drink: Fruit Punch Gatorade and Pepsi
Movie: I Am Sam, Radio, We Are Marshall
Tv Show: ER, Greys Anatomy, House, Reba.
Facts:
I am a Christian.
I was born in Canada and I still live in Canada.
I have a crush on Josh Groban, Joaquin Phoenix and Patrick Dempsey.
I sleep with my sucky husky Moses.
I run Loyal Lamb Outreach by myself and I love it.
I adore and love children with all of my heart.
My strongest love is The Father, the son and the Holy Spirit.
Moses is my best friend.
My everyday prayer is that all sickness, all poverty, all hatred and sin would be wiped off the face of the earth.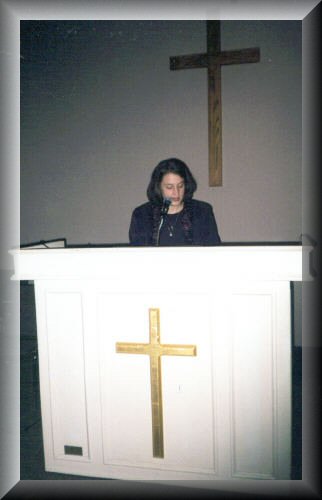 Loyal Lamb Tanja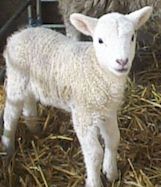 Songs Sang in Public including Dinner theatres, Sunday Service, Canadian Idol, Outreaches etc
Amazing Grace Fountain Of Grace Springtime In Heaven One Hope Tears In Heaven Truly Madly deeply The Rose Well Done I believe I can Fly and many more...