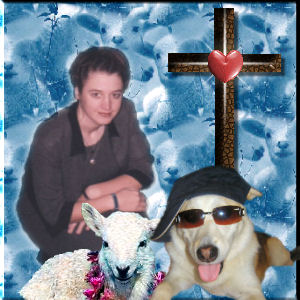 "I welcome you to "Loyal Lamb Outreach" this outreach will be used to share stories of children who have suffered from critical illnesses and who are mentally challenged, children who have passed away and so much more. I will also be sharing the stories of the children I will be meeting within the year 2009. I will be traveling all over Canada and hopefully over to the USA This outreach will continue to grow everyday. The outreach is made in memory of my dear friend Jinnette Rachelle Ellwood. Feel free to read what I have written about her. The mascot of the outreach is a little boy name Shiloh who was in a near drowning accident and has been in a coma since he was eight months old and still remains. I pray that Loyal Lamb Outreach will be a place you may seek comfort. Keep checking this site as it will be added to on a daily basis.

I am the creator and manager of Loyal Lamb Outreach! I am making lots of changes to the site, at this moment I am making snow globes for the children on the site. A few of the children who were here in 2003-2009 have past away so I will be making memorial pages for them. I have also started a facebook group for the outreach for support and prayer requests and you can access that at
Remember my love and prayers are with you!
Tanja Theriault Posted July 15, 2009

Creator Of "Loyal Lamb Outreach":
Tanja Theriault
Inspired By:
Our Heavenly Father
In Memory Of:
Jinnette Rachelle Ellwood
Mascot
Shiloh and Kayleigh


Supporters
Ellwood Family
Michele Gray
Shiloh's Grandma

If your child is in the web site and you want to be known as someone who supports this outreach then please e-mail me at lives4jesus@live.ca
If you want to make donations let me know to what family and I will give you their contact information. Loyal Lamb Outreach does not accept any funds. I am here to show you God's love and that is free of charge.

I have permission for all background music.


LOYAL LAMB OUTREACH BULLETIN
Loyal Lamb Updates (monthly)


Clayton McDonald

Brianna celebrates sweet 16

changes to Outreach

2010 Award Ceremony in Jan
Sign my Guestbook!
Read my Guestbook!
Donations
Excepting toys only!
If you would like to send a donation
for a certain child then please
contact me and I will set you up.

Powered by WebRing.