Prayers

Please remember to pray for Michael's children, Prince, Paris, Blanket.
Please remember Michael's family in your prayers especially his mother Katherine.
Please remember Michael's friends in your prayers especially Liz Taylor and Diana Ross.
Please remember Michael's fans in your prayers.



Even though I walk
through the valley of the shadow of death, [a]
I will fear no evil,
for you are with me;
your rod and your staff,
they comfort me.

You prepare a table before me
in the presence of my enemies.
You anoint my head with oil;
my cup overflows.

Surely goodness and love will follow me
all the days of my life,
and I will dwell in the house of the LORD
forever.

Psalm 23:4-6 (New International Version)


In Loving Memory
Michael Joseph Jackson
1958-2009
A father, son, brother, uncle, cousin, friend and humanitarion
(gone too soon)

Michael is known through out the world as a pop icon, an incredible dancer, gifted singer, he also was involved in everything that had to do with his music videos and movies like Moonwalker and he also starred as the scarecrow in The Wizz. I want to keep this page focused on the gifts that God gave Michael and why he was so important to me.
Michael Through My Eyes
My mother has been listening to Michael for many years before I was even born. The year I was born Michael has just released his solo cd Off The Wall, as I was just passing my toddler stages Michael released Thriller and I remember my sister was a big fan and she had this jacket that look just like his and when I would put it on I would fall because it was so big and heavy on me. I was actually afraid of the video so I would close my eyes but still listen. As I got older I really loved listening to the bad record, yes I said record, and I loved it and also really loved his movie moonwalker. During this time in my life I was being physically and emotionally abused by my father, I did not fit in at school, I was made fun of and harassed daily. When the American Dream movie came out I saw how Michael's life was like off stage, and I felt so connected to him, I felt like I wasn't alone in my struggle. One of the parts in the movie where I felt most connected to Michael was the mouse he called ben, I was always linked to animals, and my father even choked my dog right in front of me and I cannot decribe the fear, anger, and complete sadness I felt, I kept my eyes open almost all night praying my father would not come and kill my dog whose name was Benji. Around the time he released Dangerous my father was gone and my mom had a restraining order against him. This one afternoon I was going through pictures and I found this box of papers and I saw a letter my father wrote to my mother so I read it and he said that he would grab me from school, kill me, and leave my head for my mom to see. I was so scared thinking that my own father hated me so much that he wanted me dead. I decided at that point that I didn't want to be me anymore, I was to scared to be me, so I decided to hide behind Michael. I changed my hair like his, dressed like him and always had pictures of him and his music with me so I could hear his voice. When someone would rip a picture of him I would cry for hours, I even had a framed picture of him on my desk at school, you can imagine the kids tortureing me over that one. I was placed in a treatment plan for abused kids and they slowly made me have less and less pictures of him to the point I was not allowed to bring any to school, I always mnaged to sneak at least one small one with me. I slowly became myself and the school asked me to perform like Michael at school events and I remember the shock on peoples faces, this scared child is in front of hundreads, singing and dancing, like nothing could hurt me. When I was 13 years old I had a set back because Michael was accused of something so heart breaking, I just fell apart, even though I chose not to believe it I was so worried, I wanted to see Michael and tell him how precious he is to me and that he needs to be strong because he is loved. I felt so frustrated that the media was stealing all his strength and I remembering watching him pleas his innocence and just crying for hours for his pain and praying Jesus would hold him. I slowly let go of Michael as I was becoming closer to God becase I need to rely on God for comfort and peace. Michael was still in my heart and my thoughts everyday, what he taught me about poor children, racisim, war, poverty and hatred in the world, even winning a young authors award about a book I wrote on poor children because Michael was my inspiration. I found out a year ago that Michael was ill and I was scared that he would die so I prayed to Jesus to protect him and to heal him. Now it came the time when my mom came in my room to tell me Michael was rushed to the hospital and that he was in a coma, I sat there glued to CNN just praying over and over that God would not take him, I needed to believe that one day if it was God's Will I would tell Michael how much he means to me. When CNN anounced he died, I could feel the floor beneath me just fall, its like a nightmare you can't wake up from, I just cried and cried for days and when the memorial came I was just grief stricken and I felt so empty, even though Michael did not know it he played a huge part in my life. When I write my biography I am going to write a chapter dedicated to Michael and what he has done in my life. I also plan to write a song about Michael and in that song focus on his peace that he has now. I am so grateful that I am a Christian, that I know Jesus as my Lord and Savour, because it gives me peace in knowing where Michael is and when my time comes I will see him, and I have asked Jesus to show Michael how precious he has been to me and I will pray for his precious children through out my life and hope they keep focus on the knowing that Jesus is with them always. Michael is always a part of me, nothing will ever change that, I am forever reminded that Jesus showed me Michael through His eyes.
In Christ's Love, Tanja Theriault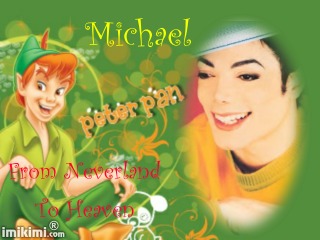 From Neverland to HEAVEN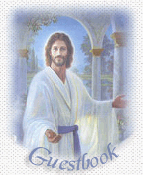 Guestbook


Dedication Video can also be found on youtube and megavideo titled "Loyal Lamb Michael Jackson"




Please remember to visit Loyal Lamb Outreach and pray for sick children


This is a Christian website so I do not answer any rumors or media content about Michael, please keep all guest book entries based on Michael's memory and NOT gossip.

Top Picture was re edited by Tanja Theriault, original was designed by the logo below!

© Sindy's Creations 2002-2007
Please feel free to use my logo to link back to